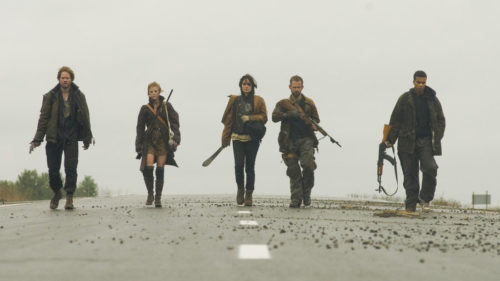 As I mentioned on Facebook last week, I was toying with the idea of a book reviewing every post-apocalyptic movie ever made in chronological order.  There were many yea and nay comments (or as I like to think of them, the sensible and the enablers), and good friend Allan Richards pointed out that an already existing book from 2014, World Gone Wild: A Survivor's Guide to Post-Apocalyptic Movies by David J. Moore, purports to cover 800 movies from the genre.  The awareness of such a book lessened the appeal of the hypothetical project for me somewhat…
…Until I said, "800 movies?"  Seriously, there are that many post-apocalyptic movies?  Depends on how you define the genre, I suppose.  But I looked at the titles referenced in the Amazon description, and realized how much my own standards would be different.  Here's how I would define inclusion:
 There must have been a global (at least as far as the characters can tell) societal crisis which caused the near annihilation of modern Western infrastructure, with attendant population decreases.  Among other things, this would disallow 28 Weeks Later, because the whole premise of that movie is that they're dealing with a purely local pandemic. Similarly, we have no idea in Escape From New York what the rest of the world is like.
While most post-apocalyptic stories are also dystopian, it is not enough that it be dystopian. Also, if the whole point is that this new society is so draconian and strictured that teenagers are going to be railroaded into a repressive role in adulthood unless they break away from social expectations and live as free spirits, I'm gonna say that lack of infrastructure isn't really their problem.
These are post-apocalyptic movies, not apocalyptic ones.  None which occur during nuclear war, or bizarre climactic change, or pandemic plague — a post-apocalyptic story takes place almost wholly in the aftermath.  This disallows movies like The Day After or Dawn of the Planet of the Apes.
Even if the inciting incident is post-apocalyptic, if the majority of the movie takes place in a pre-apocalyptic or non-apocalyptic time/place, the movie as a whole really isn't post-apocalyptic.  Mainly, that's a time-travel problem, disallowing X-Men: Days of Future Past and all but one of the Terminator movies; it also leaves Logan's Run as a marginal case.
No zombie apocalypses. Arbitrary, but that's how I roll; right there is why World Gone Wild contains 800 movies, because that's a whole 'nother kettle of worms.  Also, it spares me from having to watch any of the Resident Evil movies.
No shorts. There are almost as many ten-minute post-apocalyptic movies on Youtube as there are ten-minute zombie apocalypse movies.  I'm defining "feature-length" as at least an hour.
EDIT: No anime.  That whole genre is such a different creature that delving into it in a book dominated by live-action films just doesn't make sense.
2ND EDIT: Still considering this one: The characters should not be working to reverse the cause of the apocalypse (scientists working on a cure for the plague, freedom fighters fending off the aliens, etc.).
So with that in mind, I've been creating a Watchlist on Amazon of everything that qualifies as post-apocalyptic by my standards.  Here's the exported list in chronological order, currently at 173 entries; if you want, you can click through to see it alphabetically to see if your favorite is on my list.
EDIT: Before you tell me anything I missed, check the up-to-date list at the link; I've updated with a half-dozen titles since I first published this post, and I'm sure more will be coming.
Day the World Ended (1955)
Teenage Cave Man (1958)
The Creation of the Humanoids (1962)
The Last Man on Earth (1964)
In the Year 2889 (1967)
Planet of the Apes (1968)
Beneath the Planet of the Apes (1970)
The Omega Man (1971)
Creation of the Damned (1974)
Zardoz (1974)
The Ultimate Warrior (1975)
Strange New World (1975)
Damnation Alley (1977)
Deathsport (1978)
Ravagers (1979)
The Last Chase (1981)
She (1982)
Parasite (1982)
The Aftermath (1982)
Battletruck (1982)
Anno 2020 – I gladiatori del futuro (1982)
2019: After the Fall of New York (1983)
Stryker (1983)
Survival Zone (1983)
Rush (1983)
Le Dernier Combat (The Last Battle) (1983)
Endgame – Bronx lotta finale (1983)
Exterminators of the Year 3000 (1983)
Metalstorm: The Destruction of Jared-Syn (1983)
Warrior of the Lost World (1983)
Yor, the Hunter from the Future (1983)
Escape from the Bronx (1983)
Rats – Notte di terrore (1984)
The Final Executioner (1984)
A Man Called Rage (1984)
City Limits (1984)
Def-Con 4 (1985)
Wheels of Fire (1985)
Survival Earth (1985)
O-Bi, O-Ba – The End of Civilization (1985)
Radioactive Dreams (1985)
Warriors of the Apocalypse (1985)
Mad Max Beyond Thunderdome (1985)
Galaxy (1986)
Land of Doom (1986)
Wired to Kill (1986)
America 3000 (1986)
Creepozoids (1987)
Morning Patrol (1987)
World Gone Wild (1987)
Interzone (1987)
Survivor (1987)
The Time Guardian (1987)
Death Run (1987)
Leere Welt (1987)
Terminus (1987)
Equalizer 2000 (1987)
Steel Dawn (1987)
Phoenix the Warrior (1988)
The Sisterhood (1988)
Warlords (1988)
Empire of Ash (1988)
Mutant War (1988)
Fire Fight (1988)
Dead Man Walking (1988)
The Lawless Land (1988)
Hell Comes to Frogtown (1988)
The New Gladiators (1988)
Cyborg (1989)
Spirits of the Air, Gremlins of the Clouds (1989)
Escape from Safehaven (1989)
Rising Storm (1989)
Posetitel muzeya (1989)
Deadly Reactor (1989)
Ultra Warrior (1990)
Aftershock (1990)
Neon City (1991)
Tretya planeta (1991)
Dune Warriors (1991)
Dark Vengeance (1992)
Raiders of the Sun (1992)
Eternal Fist (1992)
Frogtown II (1992)
Mindwarp (1992)
Prototype (1992)
The Last Border (1993)
American Cyborg: Steel Warrior (1993)
Cyborg 2: Glass Shadow (1993)
Cyber Seeker (1993)
Knights (1993)
TC 2000 (1993)
Cyborg 3: The Recycler (1994)
New Crime City (1994)
A.P.E.X. (1994)
Fist of the North Star (1995)
Tank Girl (1995)
Steel Frontier (1995)
Roboman Hakaider (1995)
Waterworld (1995)
Terminal Virus (1995)
2090 (1996)
Omega Doom (1996)
Toad Warrior (1996)
Dragon Fury II (1996)
Barb Wire (1996)
The Postman (1997)
Hybrid (1998)
Amazon Warrior (1998)
Six-String Samurai (1998)
Cold Harvest (1999)
The Last Patrol (2000)
Battlefield Earth (2000)
Teenage Caveman (2002)
Reign of Fire (2002)
Deathlands (2003)
Encrypt (2003)
Dream Warrior (2003)
Kampfansage – Der letzte Schüler (2005)
Bloodfist 2050 (2005)
Alien Apocalypse (2005)
Android Apocalypse (2006)
Star Troopers (2006)
The Beach Party at the Threshold of Hell (2006)
Tooth and Nail (2007)
Transmorphers (2007)
The Last Sentinel (2007)
I Am Legend (2007)
Doomsday (2008)
Mutant Chronicles (2008)
Scars of Youth (2008)
Terminator Zan Kill (2008)
City of Ember (2008)
9 (2009)
Deadland (2009)
Splice (2009)
Experiment 7 (2009)
The Sky Has Fallen (2009)
2084 (2009)
Assault Girls (2009)
Terminator Salvation (2009)
Apocalypse Female Warriors (2009)
The Book of Eli (2010)
The Last Seven (2010)
World's End (2010)
GR30k (2010)
Never Escape (2010)
The Lost Future (2010)
The Day (2011)
Hell (2011)
Wasteland (2011)
The Collapsed (2011)
Priest (2011)
Swerve (2012)
Population: 2 (2012)
Existence (2012)
Endzeit (2013)
Wasteland (2013)
The Colony (2013)
Snowpiercer (2013)
Elysium (2013)
Revelation Road: The Beginning of the End (2013)
Revelation Road 2: The Sea of Glass and Fire (2013)
Oblivion (2013)
The Last Survivors (2014)
The Black Rider: Revelation Road (2014)
The Rover (2014)
Young Ones (2014)
Water Wars (2014)
Survivor (2014)
Dawn of the Planet of the Apes (2014)
Mad Max: Fury Road (2015)
Cyborg X (2015)
Road Wars (2015)