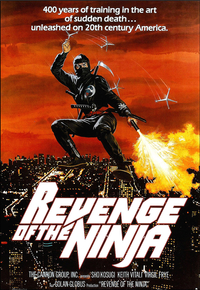 Not a review so much as a collection of anecdotes.
I think I first saw this movie in my teens; I'm not sure. Maybe not all of it. But that was when I lived in Canada. I watched it again about fifteen years ago, when I had moved to Utah, and had just finished working in downtown Salt Lake City for a couple of years.  There's a scene about fifteen minutes into the movie in which a homeless stoolie for the Italian mobsters is killed by a throwing star to the eye and falls into an ugly "artistic" fountain.
"Jeez," I said, "that's just as ugly as the fountain in front of Federal Building downtown… Hey. Wait."
Yes. Although the movie was ostensibly set in Los Angeles, the fountain in which the stoolie falls is none other than this one: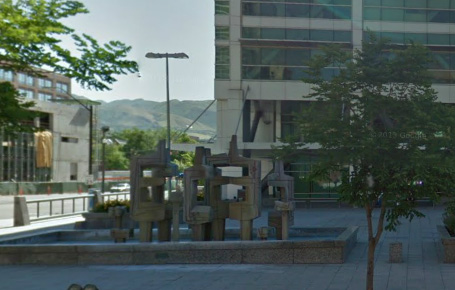 …which is about half a block from where I had been working in Salt Lake.
By the end of the movie, it's pretty clear that they're not even trying to disguise Salt Lake — Los Angeles isn't exactly ringed by mountains — and I always have a spot in my heart for Revenge of the Ninja, the best movie Sho Kosugi ever made in Utah.
I hadn't seen it since then; in the interim I had gone back to working in Salt Lake, and gotten pretty familiar with the city. So when I watched it again this past weekend, even though there's been plenty of renovation around downtown — especially the parts which were empty and and rundown enough that Golan-Globus could afford to have a car chase culminating with a ninja fight in the middle of the street — I still picked out very familiar locations: "Hey, there's the Rio Grande train station before they turned it into a museum!" "Hey, there's the 4th South viaduct to the I-15 on-ramp!" "Hey, the little Japanese doll shop that Kosugi runs is right where I used to walk every day between the commuter train and my office!"
But the best was saved for last. If you recall (I shall assume that you have seen the movie, and you'd be wise to let me keep thinking that lest my respect for you diminishes), the climactic battle between good and evil ninjas takes place on the top of a skyscraper.  After the evil ninja is vanquished (whoops, spoiler), a panoramic helicopter shot shows the distinctive Salt Lake Valley as it spirals out and up (yep, you can even see the Salt Lake Temple), and I finally got to identify the building on which the battle had taken place.
It was one of the American Towers, twin buildings right beside the building at which, up until our move two years ago, my workplace had been for eight years.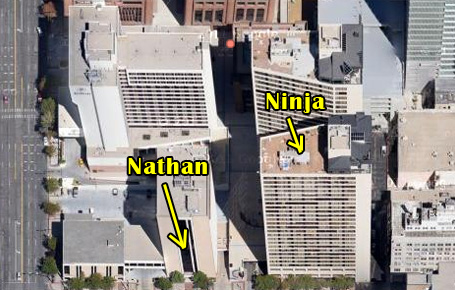 It's not exactly what you think of when you hear the phrase "brushes with greatness," and I have so far failed to inculcate in either my wife or my children a fraction of the excitement that this realization spwned in me, but I still think it's cool.  It's like having your own personal Bronson Canyon.