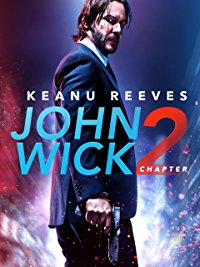 John Wick: Chapter 2 (2017) – Surprisingly, a plausible sequel to an action movie that really wasn't designed as a franchise.  (In other words, more plausible than everything from Die Hard 2 to Taken 2).  I'm not sure how much I like learning more about the pseudo-government of the underworld — the "seat at the High Table" seemed almost like something that was stolen from vampire novels — but the movie did confirm my long-held suspicion that roughly 80% of the inhabitants of New York are in fact hitmen.
And this time, they very clearly set things up for a sequel.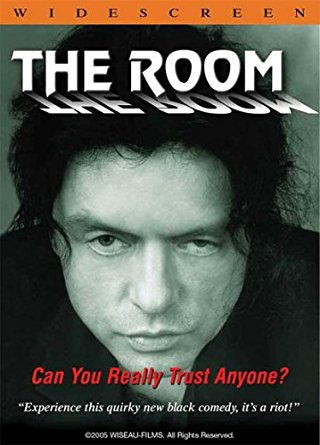 The Room (2003) – I don't want to talk about it.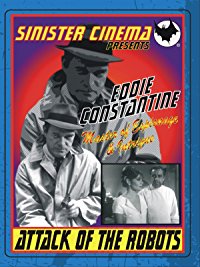 Attack of the Robots (1966) – Its English title is misleading, although the original French title — "Cartes Sur Table" (Cards on the Table) — tells you absolutely nothing.  This isn't a sci-fi feature as such; it's a international-intrigue-superspy adventure a la James Bond (who even gets name-checked at one point).  A shadowy organization kidnaps tourists in Europe, brainwashes them, and sells them out to the highest bidder as assassins.  And the only one who can stop them is perennial tough guy Eddie Constantine!
Most American cinemaphiles know Constantine only from starring in Alphaville (1965), which means they miss the point: Constantine was a mainstay as the hard-boiled hero in a dozen French-made crime movies before Alphaville, and that mystique was a large part of the reason that Godard cast him.  Seeing Constantine in Alphaville without being familiar with his on-screen persona is like seeing Clint Eastwood for the first time  in Unforgiven (1992) — you miss the whole relationship of that particular movie to the leading man's oeuvre.
So this is one of those bread-and-butter movies for Constantine: He's charming, forthright, successful with the ladies, and two-fisted at all the right times. Don't like the fact that Jess Franco directed this frighten you off; it's actually a fun little time-waster.