I don't have one.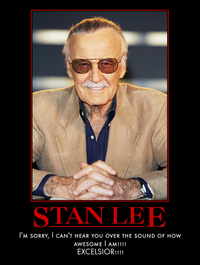 Let me explain.  I was only going to be able to attend SLCC on Saturday anyway, as I used up all my vacation on WesterCon* and our family vacation**. And then there were communication problems with the programming staff (they didn't receive the filled-out panel questionnaire that I sent), so the only two panels they scheduled me for were a Hobbit III panel (and I've gone on record saying that I never expect to see it because I hated Hobbit II so much) and a Hitchhiker's Guide retrospective panel (I don't think I've read a Hitchhiker's novel in twenty-five years, and even then I didn't read all that was published).  So I declined; I've got enough other stuff to do on Saturday — gotta get a new family computer for the one that just gave out, it's Stake Conference, etc…  Nobody's fault, no hard feelings, etc.  Despite all the nifty names at SLCC — Leonard Nimoy was just announced — it's not as much of a thrill for me to see them from across a huge room.  (My biggest letdown is not seeing the display from the Frazetta Museum, and of course meeting my local creative peers from the Avenue of Awesome.)
*That's right, I chose to put my time toward WesterCon instead of SLCC — in retrospect, not the best vacation I've ever made.
**You remember, the one with the deer that dove through the side window of our minivan.