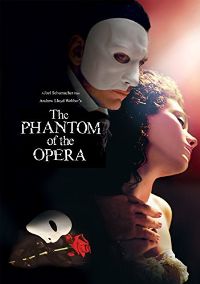 The Phantom of the Opera (2004) – This is the big-screen adaptation of the Andrew Lloyd Webber musical, not the Lon Chaney silent shocker.  Or the 1943 version starring Claude Rains that I absolutely hate. Or the 1962 Hammer version which I haven't seen, or the ill-conceived 1989 Robert Englund version with time travel and soul-selling, or the respectable 1990 TV miniseries with Burt Lancaster and Charles Dance, or the 1998 Dario Argento version which I haven't seen, or the other few versions that I really don't know anything about…
The name of Joel Schumacher is often bandied about as "worst director in Hollywood" (a label applied almost completely by Batman Forever and Batman & Robin), but he's really at his best with bombastic, gothic settings, so this is spot-on.
My daughter Sariah turned this on, knowing only that (a) it was a musical, (b) there was a guy in a mask, and (c) a chandelier falls.  By the end, she was crying into the pillow clutched on her lap.  Then she made her mother and sister watch it.  And then her friends.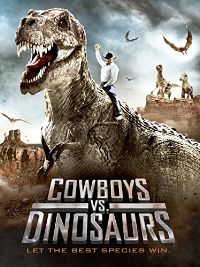 Cowboys vs. Dinosaurs (2015) – I was awful disappointed that this wasn't a period piece, something to show on a double feature with The Valley of Gwanji (1969).  No, it was instead a cookie-cuttered SyFy-ish creature feature, with check-the-box character templates, standard Sega-level CGI, and nothing really to recommend it except (a) the mighty Vernon Wells as the old and mean Requisite Eee-vil Businessman, and (b) Sara Malakul Lane as Dr. Sinclair, a fresh-out-of-college mining geologist whose impressive mammaries (the consensus of Teh Intarnets is that they're very well done implants) are so bodacious that, even being fully clothed the entire time, they tend to distract from the presence of bloodthirsty dinosaurs.
Speaking of bloodthirsty dinosaurs… I know this really isn't the context in which to complaint about verisimilitude, but here's the thing about meateaters: They eat meat.  They don't just cruise through a town, killing all the locals one after another without stopping to consume their prey.  (On the other hand, these are dinosaurs that will climb several stories through an old grain elevator after their human quarry while ignoring the horse placidly grazing beside the door.)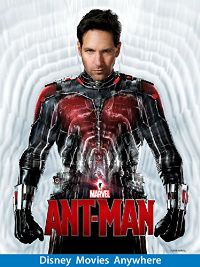 Ant-Man (2015) – While the huge blockbuster first-string Marvel heroes dominate the universe-shattering tentpole movies, a second-string movie like Ant-Man can really imitate what makes a comic-book universe fun: It inhabits a world in which those other heroes and events exist, but it can explore story ideas without having to have the universe hang in the balance every single time, or without primarily being a segment in the dominating meta-saga (I'm looking at you, Age of Ultron).  This is the kind of movie that lets me entertain the far-fetched notion that maybe, just maybe, there could be an Agents of Atlas movie in the future.