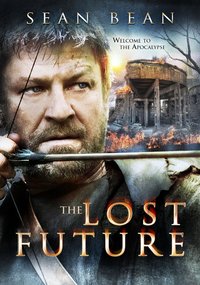 The Lost Future (2010) – "Oh, Sean Bean is in it? How quickly does he die?"
Unlike so many content-to-be-bad post-apocalyptic movies, this one wants to be good.  It doesn't quite make it, but hey, points for trying.  In the far future, an isolated tribe of humans thinks they're the only ones, living in a small spot of jungle that's otherwise infested by infectious zombie creatures.  When a zombie attack infects his loved ones, a young man tries to follow in his wanderer father's footsteps and, with the help of Sean Bean who knew his father, journey to a despot-ruled city where the cure for the zombie disease is kept under lock and key.
Production values aren't bad; the giant sloth show in the first five minutes (explained later as a leftover of pre-collapse genetic prowess, but mostly included because GIANT SLOTH) looks fully as realistic as any of the critters in 10,000 B.C., and there are some sets which leave me wondering if the South African shooting locations included leftover sets built for some larger production that I don't recognize.  But the movie tries too hard to be inoffensive, and as a result comes across more bland than anything.
(Note: This will probably be the last post-apocalyptic movie mentioned here for a while — I'm still considering that blog/book project reviewing every post-apoc movie ever made, and I don't want to get tired of the topic too soon.)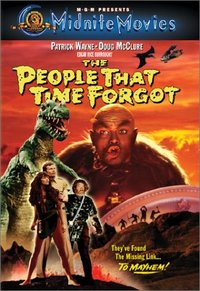 The People That Time Forgot (1977) – You know what you're getting into with one of these A.I.P./British co-production Edgar Rice Burroughs adaptations:  stilted acting, arbitrary plots, and cardboard dinosaurs.  If you don't like that kind of stuff, why are you putting it on?
What this sequel to The Land That Time Forgot (based on the novel that was the sequel to the novel of The Land That Time Forgot, natch) really reminds me of, though, is Beneath the Planet of the Apes.  You've got the lite version of the first movie's hero (In this case Patrick Wayne, son of some guy named John) trying to find the hero from the first movie (in this case, studly everyman Doug McClure) who only shows up in the last few minutes.
Also: I was wondering all through, "Where have I seen this Patrick Wayne before?" Afterward, the IMDb informed me that I knew him from from Revenge, the 1986 shot-on-video pioneer of the direct-to-video movement. Oh, how the mighty fell…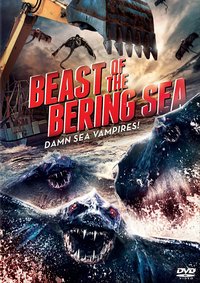 Beast of the Bering Sea (2013) – AKA Damn Sea Vampires. Yes, it's a cheap creature feature that premiered on the SyFy Channel.  No, it's not produced by The Asylum.  Yes, it's just as bad and then some.  Things I learned from this movie:
Weird manta-ray-like creatures can insert an egg into a human host and have it germinate to near-adulthood in mere hours.
Anchorage, Alaska has a population not exceeding two dozen.
Family crews on Alaskan gold-dredger boats can shrug off the deaths of close family members in a matter of minutes.
When deep sea fish are exposed to strong ultraviolet light, they will literally explode.