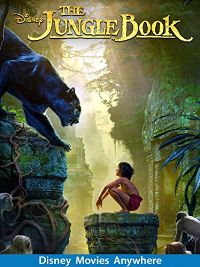 The Jungle Book (2016) – As is the Disney M.O. these days, this version of The Jungle Book is a live-action remake of their own 1967 animated feature, which was only only very loosely based on a 25-words-or-less summary of the Rudyard Kipling book.  In other words, as far as this 2016 version is concerned, the 1967 version is "the original."  Thus, we have a Bill Murray-voiced Baloo singing "The Bare Necessities," and a lengthy segment with King Louie (Christopher Walken, letting that Queens accent out and about).  I think that Neel Sethi as Mowgli should win an Academy Award for managing to maintain a performance as practically the only live-action element in a sea of greenscreens.
How fortunate that Mowgli is not only a mancub, but one blessed with a genius level of engineering talent.  Given the contraptions he was able to MacGyver out of vines and sticks, he could probably have turned the Coke bottle from The Gods Must Be Crazy into a drone-mounted deathray.
I think it's irresponsible verging on criminal the way that Hollywood blithely features fires — house fires, or in this case forest fires — and completely ignores the effects of smoke.  Ain't no way that Mowgli and Shere Khan could have their half-mile steeplechase through the treetops above a raging ground-level inferno and neither even cough, much less curl into a teary, chocking ball and plummet to the ground.
The main difference in this version — spoilers! — is that Mowgli decides in the end, and is afforded the right, to stay in the jungle.  You can see how much the world has changed since 1967; the original, from a very establishment-friendly company, resolved the story with the idea that there are things you're supposed to do or be based on immutable biological factors, and the sooner you realize that there is something you're supposed to be and make peace with it, the happier you'll be.  The 2016 version, on the other hand, effectively says that it's okay that Mowgli, human raised by wolves, ultimately decides to "identify" as a wolf (or at least a jungle-dwelling critter) and have everyone treat him as one.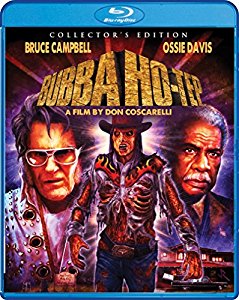 Bubba Ho-Tep (2002) – I always meant to get around to seeing this; I've watched it now because of an ultimatum — a "watch this within 30 days or we can't be friends" ultimatum. (Are you happy now, Jane?)
Most of the awesome comes directly from the premise (from a story by Joe Lansdale): Elvis (the mighty Bruce Campbell), who switched lives with an Elvis impersonator in the early '70s and now lies in a Texas rest home with a broken hip and an infected mantackle, teams up with an elderly black man who swears that he's JFK dyed dark by a nefarious LBJ to fight a cowboy-hat-and-boot-wearing mummy who's sucking the souls out of the rest home's other clients.
Honestly, you'd have to go out of your way to screw up the appeal of that premise, and writer-director Don Coscarelli doesn't; he mostly just plays it straight and lets the premise unfold to its inevitable conclusion.  There aren't really any surprises beyond what you could extrapolate from the paragraph above, but who needs surprises at that point?  (I could have done without quiiiite so much introspection on Elvis' part regarding the state of his junk, but…)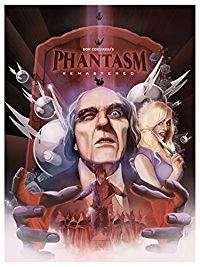 Phantasm (1979) – Speaking of Don Coscarelli! In preparation for watching Phantasm: Ravager, the fifth and final (definitely, because Angus Scrimm died earlier this year) installment released recently in the decades-long franchise, I'm rewatching the earlier four movies in fairly quick succession.
I hadn't seen the original movie in almost thirty years; all I could really remember was that, having seen Phantasm II first, I was very disappointed that the first one was a very different beast: moody, meandering to the point of almost being plotless, '70s-flavored, and understated, entirely unlike the existential road trip that comprises the sequel.  I'm not as disappointed with it as I was that first time, but I'm certainly not devoted to it; the best thing about the original Phantasm, I think, is that it spurred the creation of the superior sequels.