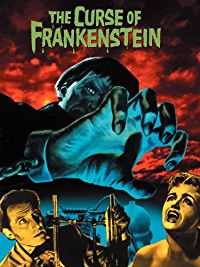 The Curse of Frankenstein (1957) – This was the first of Hammer Films' Frankenstein films (which led to their other signature "classic monster" franchises, Dracula and the Mummy and thus cementing their reputation as a horror movie company), as well as being the first film to pair the classic duo of Peter Cushing and Christopher Lee. It also gives us the next step in the evolution of the character of Dr. Frankenstein from the fickle Prometheus in Shelley's original novel, to the ambitious egotist who eventually learns at least a little about the error of his ways in the Universal franchise (before being replaced by sons, cousins, and unrelated scientists), to Hammer's version: a completely remorseless antihero, driven by ambition to meddle with Things Man Was Not Meant To Know, no matter who or what gets in the way.  Hammer's franchise followed successive exploits of the good doctor, as opposed to Universal's focus on the creature itself, and the success of the series largely rest on Cushing's appeal.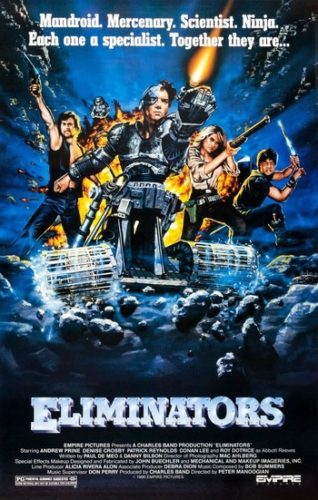 Eliminators (1986) – A lukewarm offering from Charles Band's Empire Pictures (in other words, not nearly as good as Re-Animator (1985) or Trancers (1984), but not nearly as bad as Metalstorm: The Destruction of Jared-Syn (1983) or Ghoulies (1984)).  The Mandroid (Patrick Reynolds), a a fighter pilot who crashed and was reconstructed by Abbott Reeves (Roy Dotrice), spends almost the entire movie returning to Reeves' evil lair that he escaped from in the first five minutes.  Along the way he picks up a pre-ST:TNG Denise Crosby as a good robotics scientist, Andrew Prine as a wanna-be Han Solo river rat, and what the heck — let's throw in a ninja! Oh, and there's something about time travel in there too, but by that time you really don't care anymore.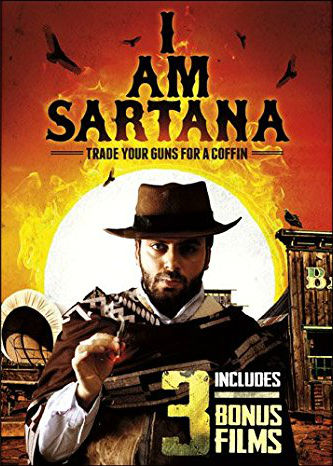 Sartana's Here… Trade Your Pistol for a Coffin (1970) – Taciturn gentleman gunslinger Sartana (this time played by George Hilton) gets involved in the macho pissing contest that is the Old West according to spaghetti westerns. Every one of the characters listed below is in cahoots with, and simultaneously double-crossing, every other character over waylaid shipments of gold dust:
Sartana
Sabbath/Sabata, aka "The Gayest Gun in the West" (seriously — he wears a white suit with lavender embellishments, rides carrying a parasol, and talks about his mother more than Harvey Fierstein)
Mr. Spencer, who owns the mining company and looks remarkably like James Last
Baxter, Spencer's right-hand man
Mantas, the bandito chief
Trixie, hotel-owning madam
As far as you could tell from this movie, the only honest people in the West were the bartenders — and they were always getting roughed up, forced to put their faces in spittoons, etc.
A well-shot, well-paced adventure. Just don't try too hard to unravel the plot.