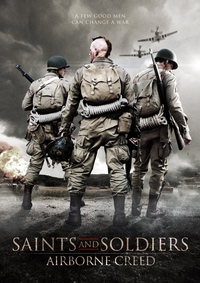 Saints and Soldiers: Airborne Creed (2012) – Corbin Allred, star of the first Saints and Soldiers movie, returns as a different character (obviously, because he died in the first one).  In this one, three paratroopers behind enemy lines in France try to hook up with friendly forces and evade Nazi patrols with the help of the French resistance, and both they — and a Nazi officer grown tired of war — have to decide how much humanity a soldier can show and still survive.
Unlike the first movie, this one had no obviously Mormon characters (and some who were explicitly pegged as members of other religions), but it makes up for it with the cast familiar to the Mormon cinema audience: the three paratroopers are Jasen Wade of 17 Miracles, David Nibley of The Best Two Years and Praise to the Man (and a small part in 17 Miracles), and, of course, Corbin Allred, lately of The Saratov Approach.
I don't think this movie was as good as the first.  Production-wise, it was fine, but there were some story problems (what had been nominally our main protagonist dies at the three-quarter mark), and some of the dialog was too on-the-nose.  And I never really accepted baby-faced Allred as a gung-ho pugilist with a mohawk.  But still a worthwhile movie.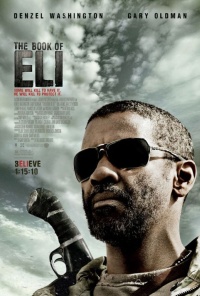 The Book of Eli (2010) – 30 years after a global war ripped away the ozone layer and laid waste to the biosphere, badass loner Denzel Washington walks the ruined highways toward the Pacific on a private, divinely-inspired mission — and not even Gary Oldman is going to stop him!
Visually, there's only so many places you can go with a post-apocalyptic world, and The Book of Eli walks a fine line between the depressingly plausible "world gone homeless" look of The Road and the neo-tribal excesses of everything inspired by The Road Warrior, with colors further washed out because of the change in sunlight.  In outline, it's a fairly standard post-apoc story, with an oddly definite theological bent, and while all of that's handled well, the movie's real success is in putting actors of the caliber of Washington and Oldman into a genre usually occupied by actors of much lesser ability.  This is also one of those movies that you'll be tempted to re-watch, just so you can find all the clues to the "big reveal" at the end.
(I'm on a bit of a post-apoc kick, so don't be surprised if you see several more show up here.  I even re-watched The Road Warrior this week for the first time in probably twenty years.)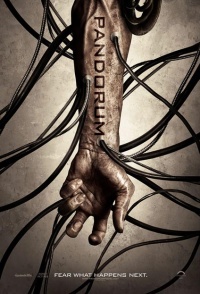 Pandorum (2009) – H.P. Lovecraft's "The Lurking Fear" meets Red Dwarf.  Two crewmembers (Ben Foster and Dennis Quaid) on a vast colony ship wake from hypersleep with the disorientation and amnesia that comes from too-long suspended animation to find the ship deserted — almost — except for tribes of cannibalistic albinos.
I'm divided about this movie.  Some things are done right, very much so: parts of the set design are perfectly claustrophobic, and the cannibal mutants are realized almost completely with practical effects which emphatically makes them more menacing.
On the other hand, other parts of the set design include bizarrely vast empty spaces — not only is that frankly stupid in a huge pressurized vessel, but when we finally get to the ship's reactor in the climax, its own visual spectacle is lessened as "just one more big empty space."  The typeface used for all ship's doors, labels, even the crewmembers' ID tattoos is borderline unreadable — in other words, it does not do the job for which it would be meant. (Yes, it's even unreadable compared to the thin, all-caps font that was the default aboard the Enterprise in ST:TNG.)  Those seen like little nitpicks, but with a horror movie like this (and it's definitely a horror movie first and foremost — the subtle-as-an-H-bomb soundtracks confirms that) needs to rely on visceral and preconscious audience reaction even more than other movies.
Oh, the "pandorum" of the title? It's a form of deep space psychosis, and apparently it only (a) affects members of the flight crew (the other non-mutated humans we see show no sign of it), and (b) manifests entirely when convenient for the plot.
Worth watching for the cannibal mutants, mostly, and to see how Dennis Quaid is becoming a virtual carbon copy for Harrison Ford as they both age.
(Goal for next time: Watch something whose poster or DVD cover isn't all shades of gray.)