Predator: Dark Ages (2015) – This one's a fan film, so you don't need to feel guilty about torrenting it.  And it demonstrates that, really, unless it's a $200 million Avengers vs. Micronauts movie, what do we really need Hollywood for anymore? This Kickstarter-funded 25-minute short shows a handful of Templars (not really "Dark Ages," but oh well) and a Saracen fractiously teaming up to fight a mysterious something that… well, you know.
Professionally shot and edited, well acted (or well enough, at least), with desktop digital FX at least as good as those which originally gave us the Predator's cloaking device, this should finally prove to just about everyone that indie filmmaking deserves as much respect as indie publishing has gotten in the last couple of years.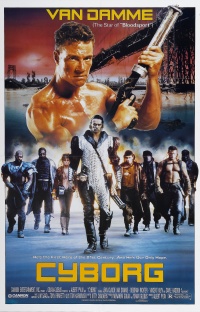 Cyborg (1989) – Look, would you just stop acting shocked at all the "essential" movies I haven't seen?  I've seen enough of Albert Pyun's other movies (far too many, actually) to know exactly what I was going to get with this: Ludicrous dialogue, tissue-thin characterization, bizarre pacing (I seriously thought the movie was almost over before I realized that only 50 minutes had gone by and there was still a half-hour to go), misuse (and overuse) of slow-motion, motifs stolen whole from better movies (in this case, Sergio Leone's Once Upon a Time in the West) and the unnecessary inclusion of either a cyborg or android because Pyun likes 'em.  Cyborg did not disappoint on any count, which means that it was a terribly disappointing movie.  Frankly, reading about how this movie emerged out of the ashes of both an abortive Spider-Man movie and a Masters of the Universe sequel is more entertaining than anything shown on screen.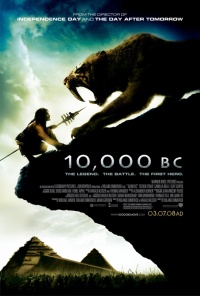 10,000 B.C. (2008) – One doesn't watch a Roland Emmerich movie for deep philosophy or stirring characterization, but it should at least have thrills that make the budget worthwhile.  10,000 B.C., though, strains even one's forgiveness for bubblegum summer fare with its club-footed dialog, it's by-the-numbers plot conveniences, and its general lack of a feeling of enthusiasm.  A group of heroic Cro-Magnonesque primitives follow the Bronze Age slavers who captured half their village through bizarrely sudden terrain shifts, dodging anachronistic and incongruous predators to an ersatz African that was just waiting for a white guy to come along to lead all the tribes against the slavers' Iron Age employers, who ape Stargate just enough to let you know that they're supposed to be bad guys.  Along the way there are prophecies, of course, because they're expected.  In fact, everything in this movie seemed like it was here because it was expected, and for no other reason.  It brought to mind the image of someone rounding the bases after everyone in the stadium has gone home.