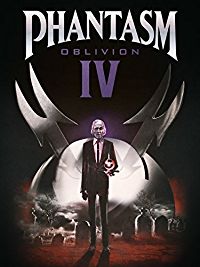 Phantasm IV: Oblivion (1998) – Despite writer-director Don Coscarelli commenting at the end of the shoot for Phantasm III that he really had no more ideas for the series, this sequel came only four years after the last one (the shortest gap between installments in the series).  Of course, that's enough time for the child actor who played the precocious-and-annoying child warrior in the last movie to age out of his part, so we'll let the smash-grab of him at the end of Phantasm III pull him right out of everybody's memories and pretend he never existed, okay?
The budget for Phantasm IV was roughly $650,000, a definite step backwards for any installment since the beginning ($300,000 for the original, $3,000,000 for II, $2,500,000 for III), and it shows; this is a very spare movie, with only six characters listed in the closing crawl.  At least there's more of Mike in this one — instead of being catatonic or imprisoned for most of the movie like the last one, he's dragged by the Tall Man to Death Valley for a series of surreal encounters, including clues as to the origin of the Tall Man as a 19th century mortician who invented a steampunked version of the "dimensional forks," crossed over, and came back… changed.
Meanwhile, Reggie tries to follow Mike's path, supplying the requisite scenes of action and cock-blocking by the spheres.  (Reggie really needs to realize that his libido comes with a body count.)
There's some expansion of the dimly seen Phantasm mythos here, but I recognize in the scriptwriting a failing I see too often in my own writing: treading water.  Many things happen, and most of them are interesting things, but they largely fail to move the story along — in fact, they're not meant to move the story along, because Coscarelli didn't know where to go.  Only in the last ten minutes is there real momentum, and the final scene — the first one in the series so far that doesn't have someone being smash-grabbed through a window — is a cliffhanger with Reggie following the Tall Man through his dimensional forks to wherever he comes from, leaving Mike dying in Death Valley…
And that's where things stood, for eighteen years.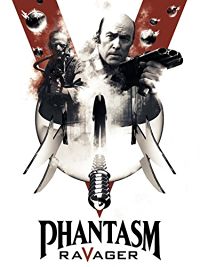 Phantasm: Ravager (2016) – The foundational decision to make this final sequel (extra-final because of the death of Angus Scrimm between production and release) a movie completely about Reggie, told almost exclusively from Reggie's viewpoint, meant that there's no way that the promise of Phantasm IV's cliffhanger ending could ever be fulfilled. Instead, drawing inspiration from such throwaway lines such as the Tall Man's taunt from Phantasm IV, "Ice Cream Man, it's all in his head," this movie gives us a Reggie trying to follow and fight the Tall Man, while being increasingly unsure that he knows what reality is anymore.
The first half of the movie is largely composed of footage originally meant for an aborted Phantasm webseries, with Reggie inexplicably back from wherever he jumped to at the end of Phantasm IV, regaining his 'Cuda in the desert, being chased by silver spheres, and — naturally getting involved with a cute female driver when her car breaks down spectacularly.  (See previous comments about Reggie's libido's body count.)  But after following that storyline far enough that it seems like we're actually getting somewhere —
— we're suddenly with a grayer, creakier Reggie (meaning they washed the Grecian Formula out of his hair) in a wheelchair in a rest home, while Michael (at 52, no longer a "Booooyyy") gently explaining that he's been diagnosed with dementia.
Reggie keeps flipping back and forth between those two realities, plus one more in which his been in a brain-draining dimensional fork contraption for the missing eighteen years, awakening into a world in which Michael leads a handful of resistance fighters against the Tall Man's forces, which have taken over and transformed our world.
Oh, the Tall Man.  Angus Scrimm didn't look particularly unhealthy here — certainly not for being almost ninety years old — but he sure didn't look like himself.  Even just comparing his face in 1998 with his appearance here…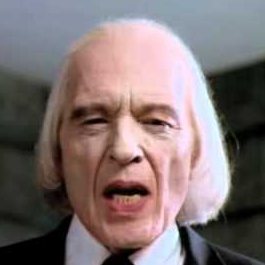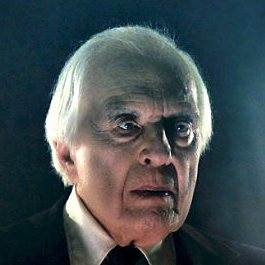 …well, the last glimpse we get of the Tall Man is almost cuddly.
Being an independent genre movie made in the 2010s, Ravager is awash with CG effects — huge city-leveling spheres sometimes fill the sky, an army of Tall Men waits in a Matrix-like white nowhere, the three realities which Reggie hops between bleed into each other — but it somehow all feels impoverished.  And maybe that's because, just like Phantasm IV (and, to a lesser degree, Phantasm III), the screenplay's coyness with answering any of the franchise's enduring questions means that we play keepaway with resolution right to the closing credits… and beyond.
Ultimately unsatisfying, but for those of us who've been following the franchise for decades, I guess we'll take what we can get.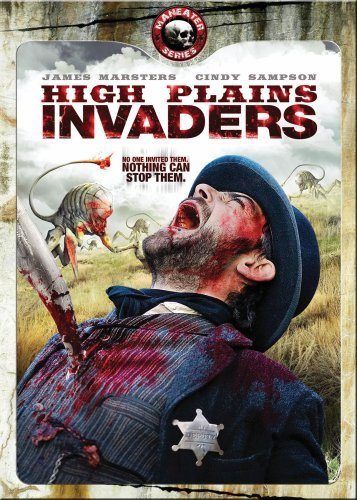 High Plains Invaders (2009) – It was inevitable: A SyFy Channel Original, shot at the standing western town set at Castel Film in Romania (which grew out of Charles Band's Bucharest-based Full Moon productions in the '90s).  It's a multi-generational B-movie cross-pollination!
But is it any good? Well, there's an upper limit to how good one of these SyFy Originals can be:throw cheap CGI effects together with a script that combines easy characterization and mind-atrophying bad science, and you've pretty much got a feature for Friday night. There were a few glimmers of quality early on, but by the end it had pretty much outworn its welcome — again, like most of its ilk.