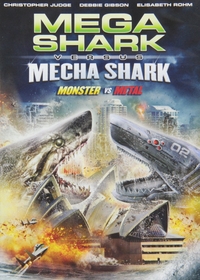 Mega Shark vs. Mecha Shark (2014) — That's right, I skipped right over the second entry in the turns-out-to-be-a-trilogy (that's 2010's Mega Shark vs. Crocosaurus). I'm a rebel that way, and it's not like I was going to miss something important to the overall story arc or anything.  That said, this is a much better movie than Mega Shark vs. Giant Octopus, though still cheap and silly; the FX are (marginally) better, Mega and Mecha meet and fight more than just in the last two minutes, and the acting is a damned sight less embarrassing — which is good, because the main characters spend and awful lot of time sitting in various sets, staring at and reacting to screens, and if they can't pull that off…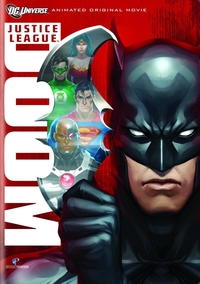 Justice League: Doom (2012) — For the last couple of decades, Marvel has been kicking DC's butt all over the multiverse in all of its media spinoffs except one: DC's animated output, both televised series and direct-to-video features, have been top-notch.  I was just remarking to a friend that, in addition to the Marvel Universe tentpole movies, Marvel Studios ought to make some smaller-scale D2DVD features that tie into the same universe, and then I realize that that's just what DC's animated features do: tell stories that don't have to be world-threatening epics to justify a $200 million budget.  The stylized "DC animated" style which began with Batman: The Animated Series is just perfect to allow fluid storytelling to take advantage of the medium without the stilted, impoverished look of the X-Men cartoons (which I could never ever ever stand, thanks to the animation).
So, anyway, in this particular outing, bad guys break into Batman's computer and steal the contingency plans which he had crafted to deal with each of his fellow Justice Leaguers should they ever go rogue.  It's a beautiful concept spun out of character, and while there's not enough time to develop each of the League members' individual plight, it's a sturdy example of the good side of the medium.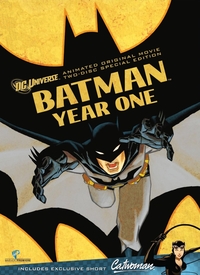 Batman: Year One (2011) — And then there are some things that the DC animated style can't do.  This feature is a scene-for-scene — almost panel-for-panel — adaptation of the four-issue storyline that originally ran in the monthly Batman comic in 1987 before being collected into a graphic novel, written by Frank Miller with art by David Mazzucchelli.  Jokingly called in some circles "Jim Gordon: Year One," it tells the parallel stories of Bruce Wayne, just back in Gotham from studying abroad and seeking to find a path to cleaning up the town and avenging his parents, and Lt. Jim Gordon, fresh in the city with a shadow over his professional past and trying to be the lone good cop among the top brass.
Whatever you think of Miller's frequent artistic misfires since those days, you must admit (you MUST, dammit) that Year One is one of the best Batman stories ever told (or, rather, one of the best iterations of THE Batman story) — for my money, better than Miller's earlier Batman: The Dark Knight Returns.  And Mazzuchelli's artwork, unconventional for the period and genre, is a huge part of its success: it's composed of unexaggerated line drawings and blocky shadows, almost "dogme"-like, paced beautifully across the page.  The storyline is hugely influential on Nolan's Batman Begins, but no one in Hollywood has had the courage to imitate the unadorned and no-larger-than-life character of the art.
So rendering this story in DC's animated style simply doesn't work.  The pacing is off; the dual monologue (rendered in the comics as Wayne's and Gordon's journal entries) fall flat.  The look of the city and the characters, which in Mazzuchelli's hands took on the feel of traced police photographs, can't help but be stylized in a way that undermines the only presentation of the Batman story that wholeheartedly convinces the reader that it's reasonable that a tortured man dress up as a bat to fight crime.