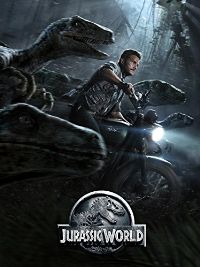 Jurassic World (2015) – All that you really need to know about this movie is that my eighteen-year-old son said, "IT'S SO AWESOME!"  Because that's exactly who it's designed to be awesome for: People young enough that a Jurassic Park movie is a periodic installment of more-of-the-same (in the way that people my age used to expect a James Bond movie to be).
So yes, the dinosaurs look excellent, and the plot gimmick is stolen from a SyFy Channel Original (because why would the military be satisfied with completely controllable weapons like tanks and drones when they could have killing machines that might go all Sharktopus on them?), and the requisite family-related theme is shoe-horned in a lot less organically than in the original Jurassic Park — which is really saying something — and the whole movie basically acts as a perfect metaphor for its own creation, responding to jaded audience complacency with more/bigger/flashier to absurd degrees.
So yeah, good to watch once, but no more than that.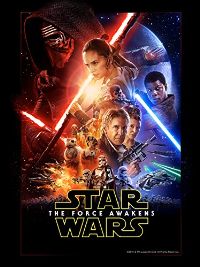 Star Wars: The Force Awakens (2015) – This movie is operating under both debilitating and buoyed expectations.  The original Star Wars trilogy being the single most beloved movie franchise of all time, there's no way this continuation could equal the almost religious regard in which the original is held, even if it technically equaled them in story-telling skill; on the other hand, the thrice-damned prequel trilogy lowered the bar so far that The Force Awakens didn't have to try very hard to earn praise as "the best Star Wars movie in thirty-two years."
So is it the best Star Wars movie in thirty-two years?  Of course.  Is it as good as the original trilogy? Of course not.  Is it a commendable effort that's well worth seeing? Certainly.  Did I cheer at several points? You betcha.  I was particularly impressed by how the story was an extension of the family saga of the original trilogy, without relying on coincidences more egregious than in the original trilogy to pull it together.
I'm now waiting for the Extended Special Edition (you just know there's gonna be one) to explain some glossed-over parts:
Is Jakku a junkyard world, or is it the site of some previously unmentioned space battle?
What the heck does Max Von Sydow's character have to do with anything?
Why did R2-D2 pick that precise plot-convenient moment to come out of sleep mode?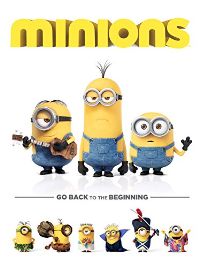 Minions (2015) – So, can the beloved Twinkie-shaped comic-relief bumblers from the Despicable Me movies carry a feature on their own?
No, not really.  I mean, yes, there's funny bits and all, but there's only so much you can do with characters who distinctly cannot grow and develop, especially when compared against two movies in which growth and development are part of what made them such favorites.  I think we're all better off with the Minions as supporting non-characters, adding color and hijinks to the main story instead of being the main story.