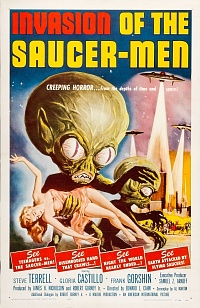 Invasion of the Saucer-Men (1957) — The best thing about this movie is the alien costume design, and the best this about the alien costume design is that it looks nifty on the poster.  In real life, not so much.  This B-movie has got all of the standard elements — necking teens, incredulous policemen, traveling salesmen out to make a buck, military types engaged in a coverup, an old coot aiming a shotgun full of rock salt at the necking teens, and of course aliens who choose inexplicably choose the woods around Hicksburg, USA as ground zero for their ungainly and purposeless invasion of the Earth — but it ends up more tedious than entertaining.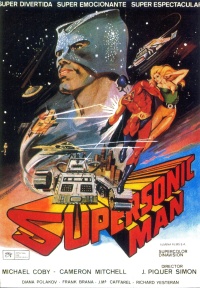 Supersonic Man (1979) — When I was a teenager, I saw the first ten minutes of this on TV and turned it off for being "too silly." Now I'm older and wiser. What Starcrash is to Star Wars, Supersonic Man is to Superman: The Movie, and then some.  This made-in-Spain superhero "epic" features a special FX budget scrounged by returning soda bottles for their deposit, and a script very likely written by a thirteen-year-old boy who was easily bored by things like "drama," "characterization" and "making sense."  It's so goofy, how can you not like it, fifteen-year-old Nathan?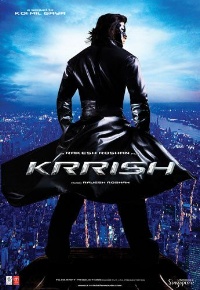 Krrish (2006) — This is the sequel to Koi… Mil Gaya (2003), aka "the Bollywood version of E.T.," which my children and I love to death.  Far from being a rehash, the sequel is a very different movie entirely.  Or rather, two different movies; the first half is a (musical) Tarzan movie, the second is a (musical) superhero movie. But we still loved it immensely.