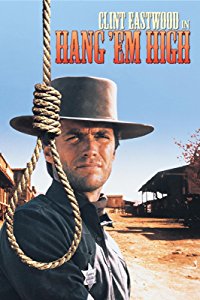 Hang 'Em High (1968) – El Clint stars as a former lawman turned Oklahoma cowpoke, wrongly lynched for cattle-rustling and saved by happenstance at the last minute, now with a bad again and going after the lynchers… for justice, not revenge.  Moviegoers are so used to the vengeful hero dispensing one-man retribution that this movie seems odd, as Clint makes sure that he goes after each man completely legally, delivering them back to judge Pat Hingle for a fair trial.  Unfortunately, it feels like the movie doesn't know what to replace the normal driving emotion of revenge with; there are some feints toward to surprising injustice of a strictly meted judicial system, and the conflict of law vs. honor, and the healing power of forgiveness… but none of them is really followed through. (This is the first of three unrelated movies featuring Eastwood and Hingle, the other two being The Gauntlet (1977) and Sudden Impact (1983).
Despicable Me 3 (2017) – Well, my prediction was wrong. I had thought that the family trajectory of manifest itself in Gru and Lucy having a baby together, and the three adopted daughters feeling jealous.  Instead, we've got Gru's long-lost twin brother Dru showing up and wanting to be Gru's protege in a life of super-crime.  It's a much better movie that Minions (2015), which almost deep-sixed the franchise by putting the one-dimensional comic relief characters front-and-center, but it also feels like an unnecessary movie. I'm guessing that the franchise ends here, at least as a feature film series.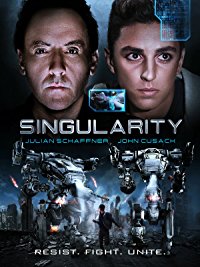 Singularity (2017) – I could only take 20 minutes of this movie. The concept is a slam-dunk for entertaining watchability, even if not terribly original: Decades after a super AI takes over the world and mostly eradicates humans, the last few people are on a desperate mission for survival. (Think the Terminator franchise without the time travel.)  But… jeez, the script. I don't know if they went in front of the cameras with a quickie first draft, or if an endless parade of producers each had to put their "mark" on it in post-production, but the part I watched were a disjointed mishmash of false starts and portentous blather.  When the twenty-minute mark featured an out-of-the-blue voiceover introducing yet another main character explaining backstory that we'd already seen, I threw up my hands and punched the remote.  It's not like I have to watch these anymore, after all.