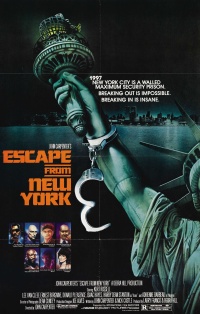 Escape From New York (1981) – Time for the shameful admission: I'd never seen it before.
Time for the second shameful admission: I didn't think it was all that great.
I mean, yes, indie film, yes, audacious premise, Kurt Russell sure looks cool, yes, but… It's just a little bland, you know?  I mean, New York, once the center of western culture (if you ask New Yorkers), is now a Lord of the Flies superprison — shouldn't that lead to a more over-the-top movie?  And the pacing is just too leisurely.  I was shouting at the screen, "Edit this scene! Tighten it up! Cut to the chase! More boom!"  This is one of the few movies that I think should be remade, so that the Hollywood spectacle machine can generate enough action to make the premise worthwhile.
Now, the argument can (and has) been made that the deliberate pace is part of Carpenter's attempt to replicate what made Sergio Leone's "Man With No Name" trilogy such classics, with Snake Plissken as the ever-so-cool antihero.  But there are two problems with this: One, the Eastwoodian hero's charisma is fueled entirely by his quiet confidence, while Snake's main attribute is belligerence — not nearly as charistmatic.  Two, the classic spaghetti westerns excelled in visual tableau; by contrast, Escape From New York's main visual motif was "don't let you see enough to know that this isn't really New York."
The hate mail may now commence.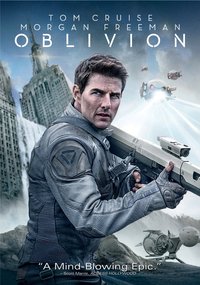 Oblivion (2013) – Way, waaaaay too much setup.  Even after a lengthy voiceover prologue, fully half of the movie was preamble, and the rest of it revealed a different, Rube-Goldbergian backstory.  Morgan Freeman was criminally underused.  And there's just something imbalanced about 51-year-old Tom Cruise being caught in a pseudo-love triangle between 34-year-old Olga Kurylenko and 32-year-old Andrea Riseborough.  All in all, this one just felt like more time should have been spent thinking the story through before throwing $120 million at it.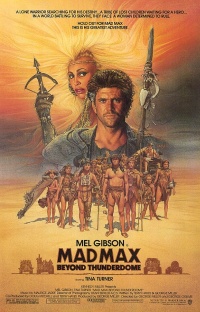 Mad Max Beyond Thunderdome (1985) – Yup, another genre classic that I'd never seen before.  Although I really wasn't missing much.  Yes, it's good, but everything good in it was done better in The Road Warrior.  (Just compare the final escape-chase in each movie to see the obvious superiority of the earlier one — and that's ignoring the fact that it was the natural conclusion to The Road Warrior's plot, while in Beyond Thunderdome it was essentially an attempt to throw in the scene from The Road Warrior that audiences had loved so much.)  Beyond Thunderdome was essentially an attempt to redo The Road Warrior with a bigger budget for an American audience.  And with Tina Turner.  (Gotta mention Tina Turner.)  Really, the biggest difference between them was that The Road Warrior inspired a bunch of cheap Italian knock-offs, whereas Beyond Thunderdome inspired a bunch of cheap American (usually Roger Corman-produced) knock-offs.