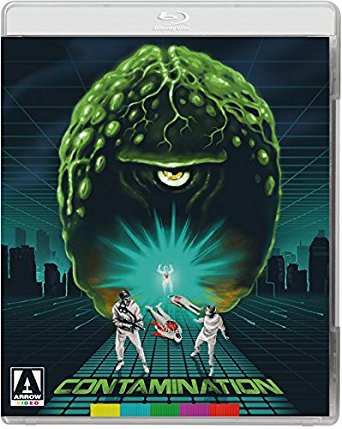 Contamination (1980) – Of the Italian-made Alien ripoffs, this is not the worst.  But that's only because at least one other (Alien 2: On Earth (1980)) is reallyreallyreally bad.  Contamination is only reallyreally bad.
A pain-in-the-ass New York cop, a standard-issue "frigid" female scientist, and an ex-astronaut with PTSD are the only people that stand in the way of another ex-astronaut's plan to… Man, that sentence was going so well, too.  Unfortunately, the evil astronaut's efforts to spread exploding poisonous giant-avocado non-eggs propagated by his alien cyclops master has absolutely no point.  As just mentioned, the things which everyone refers to as "eggs" are spelled out as being not actually eggs, but clusters of some kind of silicon-based bacteria which become active at higher temperatures, pop, and spray any nearby humans with alien avocado juice which immediately causes their chests to explode in a chunky, bloody spray.  So despite what the evil astronaut says about this all being part of the alien cyclops' way to survive, the exploding eggs don't actually propagate the species.  They just kill people.
I mean, Contamination is directed and co-written by Luigi Cozzi (aka "Lewis Coates") so I knew there was no chance in hell of it being a good movie, but it's not even the kind of effervescent stupidity that makes his immediately previous movie Starcrash (1978) such a barrel of fun. Contamination is just dumb.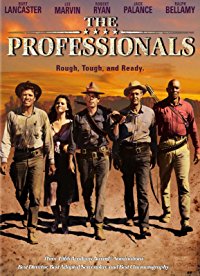 The Professionals (1966) – Lee Marvin, Burt Lancaster, Jack Palance and Claudia Cardinale in a semi-noir Western? Sign me up!  The thing probably wrote itself in the aftermath of The Magnificent Seven (1960), and helps give the lie to the idea that the spate of spaghetti Westerns spawned by A Fistful of Dollars (1964) and Django (1966) was entirely unlike what American studios were producing; it also shares some kinship with The 5-Man Army (1969), discussed here.  Marvin, Lancaster and Palance each showcase one facet of "masculine" character (the committed, the self-absorbed, and the romantic), while Cardinale is, well, Cardinale — there's really no point in ever casting her as anything other than the obviously desirable human McGuffin.  The movie feels as long as it is (two hours), and loses focus in the second hour, but it's still an enjoyable genre entry.
Shin Gojira (or Godzilla: Resurgence, of you must) (2016) – So we here in America made our own Godzilla movie in 2014 that works as ground zero for a new mythology, and in 2016 the Japanese did the same thing.  Not as radical a move for them, as pretty much every Godzilla film since Godzilla 2000 has almost done the same thing, only referencing the 1954 Gojira and ignoring what came between.
The biggest difference between the American and Japanese reboots:  The American one focused on a couple of people on the ground — a soldier and, to a lesser degree, a nurse — in a manner not unlike the story of ordinary people caught in a natural disaster.  The Japanese one, though decided to take what had been a common failing in the movies that came before — a concentration on high levels of the administrative services fighting against Godzilla, watching the destruction on screens and commenting — and doubling down on it.  It's Godzilla vs. bureaucracy!   Cabinet-level votes and procedures!  More conversations between two people walking than has been seen since The West Wing went off the air!
Add to that a Godzilla who looks like a mutant bird embryo when we first see him, the standard bogus understanding of science that has plagued most of these movies (that's not how evolution works!), some goofy new powers (Godzilla fires radioactive power-streams not only from his mouth, but also his dorsal plates — and his tail), and a final solution that's both arbitrary and bizarre (if Godzilla's blood acts as a cooling mechanism for his inner nuclear fission, how does coagulating his blood freeze him?), and, well… I wanted to like this.  I didn't.