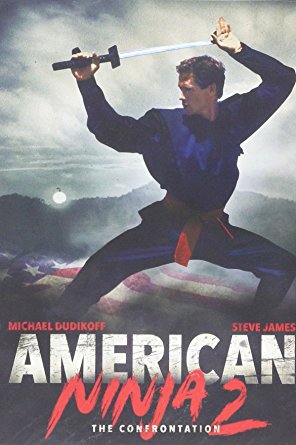 American Ninja 2: The Confrontation (1987) – I guess after the events of the first movie, Armstrong (Michael Dudikoff) and Jackson (Steve James) were designated as the Armed Forces' official inter-service ninja busters, because this movie sees them being transferred from the Army to a small, undisciplined Marine base in an unnamed tropical country (actually shot in South Africa) where Marines have been disappearing, and springloaded guys in black pajamas have concurrently been seen.  I'm guessing that one of Steve James' requests for the sequel was that he got to show off more of his own martial arts skills — of the two starring actors, he was the one with the real skillset (Dudikoff was actually a dancer) — to the point that he clearly overshadows Dudikoff's ass-whupping exhibitions.  On the other hand, it's pretty clear that the producers were happy with Dudikoff's level of cinematic ninjutsu: In the final battle, in which Armstrong wears an obscuring hood the whole time, it's still pretty clear that Dudikoff's doing most of his own fighting instead of being switched out wholesale for a fighting double a la Enter the Ninja (1981). (I guess he really couldn't have done it like in Enter the Ninja, because the evil ninja he fought in that last battle was Mike Stone, who was Franco Nero's uncredited ninja double in Enter the Ninja! It's a small ninja world after all!)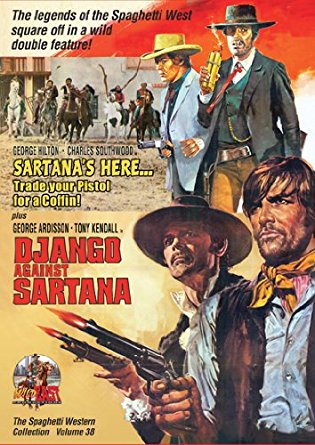 Django vs. Sartana (1970) – This has the feeling of one of those low-budget action movies that proclaims "Starring STALLONE (Frank) and NORRIS (Mike)!"  Here, a generally law-abiding gunslinger named Django (who bears absolutely no resemblance to the Franco Nero character) is convinced that another gunslinger named Sartana (who at least wears mostly black like the "real" Sartana, but isn't at all clever and looks like a shaved Neanderthal) set up Django's brother Steve as the fall guy in a bank heist, when both Django and Sartana are being misled by a third party.  The plot's spread pretty thin, and there are attempts to extend the running time with the kind of expansive tableaus that give westerns their visual power… except that it's  shot poorly, and the scenery isn't great.  All in all, pretty forgettable.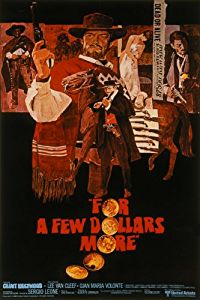 For a Few Dollars More (1965) – I haven't watched this in about twenty-five years; it had been so long that all I could remember was the hat-shooting scene between Eastwood and Van Cleef, cementing the spaghetti western genre as one of macho alpha-male pissing contest. (I hadn't even remembered that the "music box/pocket watches" was from this movie.) Notable here is just how much more money Sergio Leone was given to play with than with A Fistful of Dollars — from roughly $200,000 to $600,000 — and it shows: the train, the multiple city sets, etc.  But it's still a movie shot with the same sensibilities: the Old West is a otherworldly neverland of masculine power struggles, set against a stark, existential landscape. And it's freaking me out that Lee Van Cleef was a full five years younger than I am now when this was shot.
And yes, I have been on a spaghetti western of late, so expect more of the same to come.