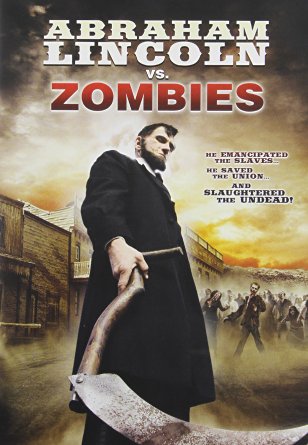 Abraham Lincoln vs. Zombies (2012) – For a cheapo Asylum mockbuster made to cash in on the release of Abraham Lincoln: Vampire Hunter, this is actually a surprisingly sincere movie.  Yes, the locations are all obviously historical landmarks with manicured grounds, but at least the production went to Savannah, Georgia, instead of sticking with the "fifteen-mile diameter around LA" environs of most Asylum shoots.  Bill Oberst Jr. plays the role of Lincoln absolutely straight, having played Lincoln in non-fantastic circumstances on stage twice before.  Very few moments are played for obvious laughs or camp (aside from Lincoln slashing a zombie's head off with his collapsible scythe while shouting, "Emancipate this!"), and the one which is obviously over the top — Lincoln striding in slo-mo out of the smoke cloud from a zombie-destroying explosion — still wasn't too much to swallow.  Heck, it made me want to stand with my hand over my heart, my other hand pumping the air. "U! S! A!"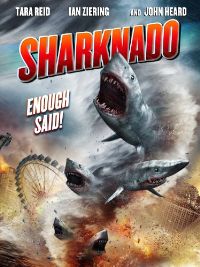 Sharknado (2013) – Since this unlikely franchise has already spawned three sequels and a mockumentary, I figgered I'd better find out what all the hoopla was about.
It's a movie of strange contrasts.  On the one hand, it's played almost completely straight, prompting me to say that it's definitely the best family drama you're going to set that's set during a massive hurricane hitting Los Angeles which has driven swarms of sharks ahead of it to swim up streets during the storm surge and be carries aloft by waterspouts.  (I say this not having seen the sequels, of course.)
On the other hand, this production's reach exceeds its grasp just a little.  Footage of for-real flooding is used to great effect (sometimes with SG sharks composited in), but there are just too many shots of dry streets, calm trees, and blue skies in the background of stormy scenes edited in.
But seriously — it's a movie from The Asylum that premiered on SyFy, about a tornado full of sharks.  By the expectations of the genre, it's a hit.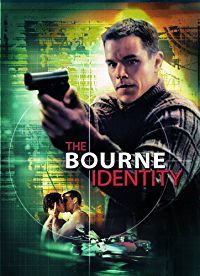 The Bourne Identity (2002) – I guess if they're going to keep making these, I might as well start watching them.  I also read the original novel about three decades ago and barely remember anything from it, but I've also heard that this movie version basically takes a one-line description of the premise and then goes its own way.
Looking back now, it seems like a fairly generic premise — amnesiac government assassin hunted by all sides — and it certainly paved the way for Tom Cruise's role in all of the Mission: Impossible movies (aside from the "amnesiac" part), but it's a great example of the "we'll keep things moving fast enough that you don't have time to say hey wait about plot weaknesses" school of action filmmaking.  (The biggest hey wait for me was, Why would a secret agent have a laser-light fob with his Swiss bank account number surgically implanted in his leg?")