Last Friday, I held the annual Halloween movie marathon with the kids (and I'm only telling you about it now because I'm lazy). Well, some of the kids; Alex moved into his own apartment a week ago and is still cleaning it to his satisfaction, and Jason has been working for the past few weeks at the Castle of Chaos haunted house every evening. And Emma spent the first part of the evening at the elementary school's Halloween carnival. So "the kids" meant just Sariah for the first movie.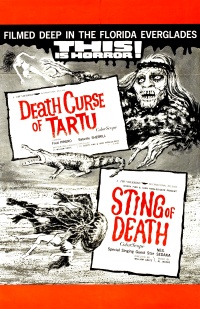 The first movie being Sting of Death (1965), previously reviewed on the dearly departed Cold Fusion Video site (which I mean to resurrect, once I've got two full weeks of uninterrupted leisure). A mild creature-feature shot for the regional drive-in market in Florida, Sting of Death features cardboard-like acting, a script with no suspense, plenty of footage of co-eds in one-piece bathing suits shaking their tailfeathers to Neil Sedaka's title song, and the goofiest monster suit in the history of monster suits.  Good times!  (BTW, the Something Weird Video restoration of the print is incredible — especially when you watch the unrestored trailers included on the DVD so you can see how much the film had deteriorated.)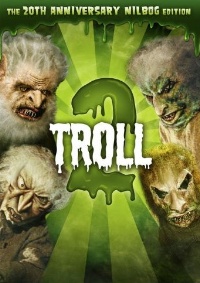 Next was Troll 2 (1990), a repeat by request; last year Emma had gone to bed before we watched it, and she had to listen to her brothers and sister all rave about how unbelievably bad it was.  So this year, she experienced it!  It's one of those movies that just keeps on giving every time you watch it.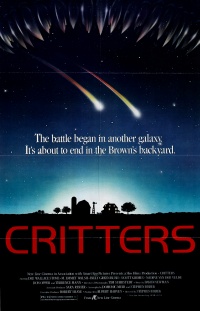 Then the best Gremlins ripoff of all: Critters (1986)!  And not only that, but probably one of the top ten "alien invasion in a small town" movies ever.  I noticed while watching that both Critters and Troll 2 featured the trope of the pubescent male protagonist with the older teenage sister, a trope which continued into…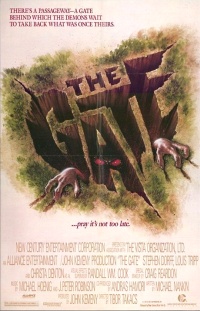 The Gate (1987), which gets my vote as the creepiest PG-13 movie of my childhood.  A well-constructed script (yeah, even with that stupid chemical rocket "objective correlative"), imaginative special effect design, and a nod to Lovecraftian lore.  (And you don't get that level of liner-note information with MP3 downloads, friend!) Emma bravely stayed up for this one (despite my assurances that it was okay to go to bed it if got too tense), although she did put her teddy bear across her face for a couple of scenes.
And then to bed, because I'm an old tired fart. (We originally had Return of the Killer Tomatoes on the roster, which I had never seen myself, and when the opening scene was a gag about big-breasted women going topless at the beach, I decided that it maybe wasn't the most family-friendly movie on my roster.)