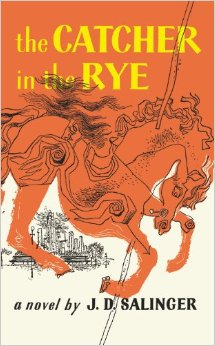 Usually, when I re-read books about which I formed an opinion in my teen years, my (ahem) mature assessment is very different, because my teenage self was an idiot.  Sometimes the re-read is a disappointment (Robert E. Howard, John A. Keel); others are complete revelations (F. Scott Fitzgerald).
With my thirty-years-later re-visit of The Catcher in the Rye, though, my young self and my old self are in complete agreement:
"What's the big deal?"
I mean, yes, it's well written as far as it goes — Salinger consistently affects the first-person voice of a clueless, inconsistent, self-delusional teenage nobody.  But is that really all that commendable?  I mean, Stephenie Meyer did just as well on the first-person voice of an intelligent but clueless teen in Twilight, and i don't see that on the curricula for many high schools.
Which, I think, points to why this book has been inflicted on high school students for decades: not because it's great literature — not even great twentieth-century literature, in which so much academic praise was reserve for work which consciously opposed the standards espoused for great literature of previous centuries — but because it's a nail that lends itself well to the hammer of high school teaching methods.  Wanna talk about self-deceptive narrators?  Go on and on about Holden's reluctance to call Jane and what it really means!  Wanna tease out symbolism and point it out to students?  There's a minor character whose initials are J.C. — and he dies!
What makes this more disappointing for me is that I had thought of a great title for a mash-up novel — "H.P. Salinger's The Lurker in the Rye" — and my re-read was to see what parts or themes of the novel I could adapt to a coming-of-age tale set in Arkham.  My disappoint on re-visiting The Catcher in the Rye is to see that, frankly, there's nothing there.  Not just for me to build on; there's nothing there, period.
Or, as a contemporary critic of Salinger opined on this novel before it was branded an unchallenged lit classic, "That's not writing; that's typing."
[cross-posted to Goodreads]