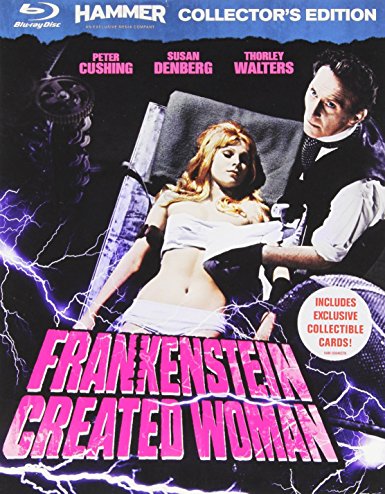 Frankenstein Created Woman (1967) – I love the fact that Hammer's Frankenstein franchise follows the creator (Peter Cushing), not the creature, and allows his experimental focus to be more than simply stitching together bodies — what the Baron truly wants is to understand and control life and death.  In this case, he realizes that (a) whatever "soul" there is stays with the body for at least an hour after physical death (which he confirms experimentally by freezing himself — ! — and then having himself revived an hour later by assistant and small-town doctor Hertz (Thorley Walters)), and (b) his electro-gizmos can keep the soul from wandering off to its final reward once it leaves the body.  So when their lab assistant Hans (Robert Morris) is unjustly hanged for murder, the Baron keeps his soul from departing — and then when the assistant's beloved Christina (PlaymateSusan Denberg, also one of "Mudd's Women") drowns herself in sorrow, he revives her body with his soul in it.
No, this doesn't become a genderswap tale; Christina largely revives tabula rasa, with only momentary glimmers of Hans' life — but Hans' soul starts directing her to exact revenge on those who actually committed the murder and set him up.
What properties the soul has, exactly, are left muddled (is it memories? intelligence? emotions? what?), but spending most of 90 minutes looking at Susan Denberg isn't a trial, and Cushing as Baron Frankenstein is always a wonderful spectacle of overwhelming yet understated intellect.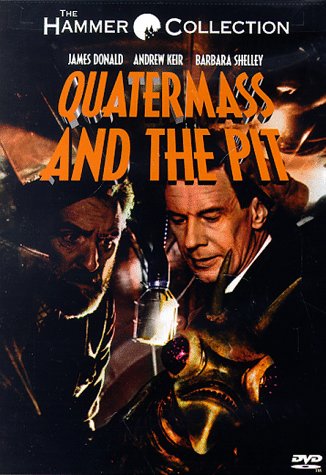 Quatermass and the Pit (1967) – I saw this once before, about 30 years ago. I thought it was confusing then, but I may have missed the beginning on cable or something; I certainly didn't remember it well.  It's a very British blend of academic competence and outlandish leaps of logic, and you're not going to tell me that the muddy soil in which the ancient alien spacecraft is discovered is going to preserve fossils for as long as all that.  The premise sets up some ideas that could be complete paradigm-shattering, Lovecraftian revelations if followed, but that would probably have kept the movie from being produced at all.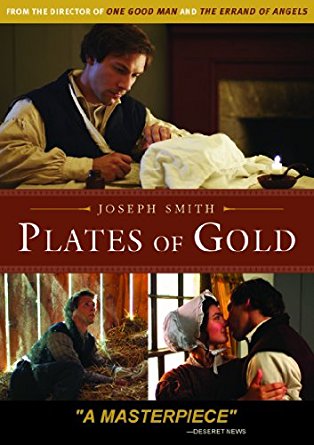 Joseph Smith: Plates of Gold (2011) – There are some stories too fraught with meaning to just tell.  For Mormons, and for anyone else who cares enough about the Joseph Smith story to tell it, this is one of those stories.  It can't just be an enthralling story — it also has to be faith-promoting (or, if it were a hypothetical non-Mormon movie that doesn't exist yet, faith-puncturing) because the audience already has strong feelings and doesn't want them violated.  A version which simply told Joseph's story, concentrating on human drama, would be criticized as too derogatory by the faithful and too sugar-coated by the scoffers.
Plates of Gold does this in droves, by allowing lacunae in the narrative, which is fully expects the audience to be able to fill in from pre-existing familiarity.  (Most obviously, this happens with Joseph and Oliver going into the woods to inquire about authority to baptize — one of the decisions about this production was that no supernatural or divine manifestation would be presented, but in this case the scene and subplot just end there because we all know — especially from the Church's own 1982 film The Restoration of the Priesthood, which did not shy away from heavenly manifestations — how that particular episode plays out.)
The casting coup here is to feature Dustin Harding, who had appeared as fourteen-year-old Joseph Smith in a Church-produced short in 2004, as the twenty-through-twenty-four-year-old Joseph here.  He's certainly energetic and looks the part, but… Well, I've never really seen an actor playing Joseph Smith who convinces me.  They're either too meek and mild (Harding, Nathan Mitchell in 2005's Joseph Smith: Prophet of the Restoration and 2008's Emma Smith: My Story) or just more than a little unbalanced (I don't know who played the part in 1993's Legacy, but he's my least favorite Joseph ever).  (Full disclosure: Haven't seen any of the I guess it's hard to play both a flesh-and-blood character and a larger-than-life icon.
Apparently this was meant to be the first of a trilogy covering Joseph's life, and apparently the two others aren't going to happen.  Probably for the best; this first leg of Joseph's life is the easiest to capture in a clear narrative.