As is our family tradition on the Friday before Halloween, last night I lined up a bunch of spooky movies and kept going until all of us finally gave up or simply fell asleep where we were.  Now that my children are all at least teenagers (and one doesn't live here), there was no time when all four were present, but each spent at least some time gazing upon the marvels presented.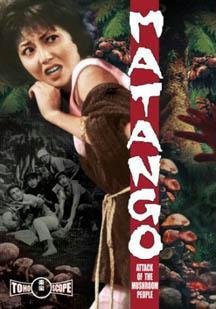 Matango (1963) – I much prefer the original Japanese title to the American Attack of the Mushroom People, since "Matango" really doesn't mean much to most people, whereas "Attack of the Mushroom People" promises events which really only occur during the last five minutes.  Seven people of various careers and levels of Japanese society (including a torch singer who provides us with two musical numbers), on a pleasure cruise on a private yacht, run into an unexpected storm that knocks out the radio and breaks the mast (this was made by Toho, so cue footage of a toy boat in the wave tanks that Godzilla would otherwise occupy); after several days of drifting, they end up on a deserted island with the wreck of a research vessel and lots of fungus.
On paper it sounds good, but the focus is so much on the soap opera of five men and two desirable women, there's too much feel-good jazz-club music for the appropriate mood of apprehension, and as mentioned above, the "good parts" are almost completely confined to the final five minutes.  On the other hand, it was refreshing to get the worst movie of the evening out of the way first.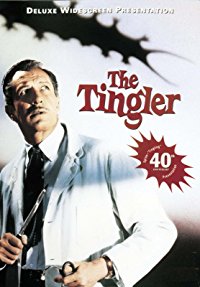 The Tingler (1959) – Sure, several lines of dialog taken out of context are a hoot, and the titular Tingler is a silly rubber prop that doesn't actually use its legs for locomotion, but Vincent Price is always worth watching and listening to (especially in a "Vincent Price with a hateful wife" plot, almost as common as a "Vincent Price takes revenge on people" plot), and William Castle was a master of keeping things interesting.  You can tell how much fun seeing this in the theater or drive-in would have been.  And now my kids want to watch Tol'able David (1921), the silent movie showing when the Tingler makes its memorable theater attack.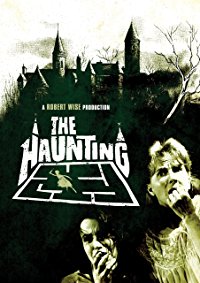 The Haunting (1963) – Proof that pounding sounds and some good terrified acting can convey fright far more than all the CGI in the world. This movie adaptation stays true to the heart of Shirley Jackson's novel The Haunting of Hill House, with wonderful editing solid performances (except for Russ Tamblyn's one-note performance that made me long for the character's death to be written into the screenplay) conveying the uncertainty and ambiguous  core of both the haunted house and Eleanor (Julie Harris), the investigator the house focuses on.  My daughter Sariah wanted a movie in this year's batch that was honestly spooky, and The Haunting delivered.  As did…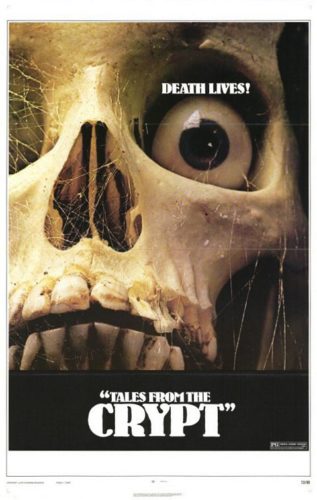 Tales From the Crypt (1972) – Five EC Comics stories of sometimes-supernatural comeuppance filtered through a British sensibility (by Amicus Productions, which produced the best Hammer-style movies not actually made by Hammer Films), which lends gravitas to the sometimes simplistic morality tales, and also takes out a lot of self-consciously corny aspects.  The centerpiece is Peter Cushing's wonderful performance as a kindhearted garbage man whose soul is slowly crushed by an uppity neighbor's psychological campaign.  The whole movie is good enough that you desperately want to ignore how Richard Greene's character doesn't fit with the conceit of the framing device.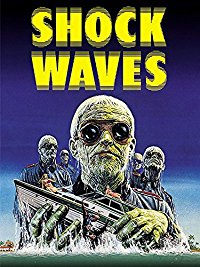 Shock Waves (1977) – Featuring Peter Cushing again, looking even more dead than he did in the last movie — and he's not even supposed to be a zombie!  I always wondered why director/co-writer Ken Widerhorn never made bigger splash (it's terrible to have Return of the Living Dead Part II as the high point of your resume), as this movie shows a great visual command; I've always loved the calm way the camera dwells on the immortal aquatic SS commandos rising from the waters…
It was probably a miscalculation to have Shock Waves as the fifth movie of the marathon, as it's very distinctly not an energetic movie.  Just after 3 a.m., I looked over to see that the two remaining children had fallen asleep, and even though it was only ten minutes to the end, I decided that I would rather be asleep.