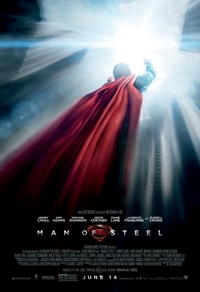 When I came out of Man of Steel with my sons (it seemed like a guy movie), by fifteen-year-old said, "That was awesome." My response was, "It was pretty good."  And then I spent the whole drive home listing my disappointments.
Some of my complaints appeared in point form in yesterday's Cheap Caffeine comic, and seriously, am I gonna have to start kidnapping people and duct-taping their eyelids so they'll look at that thing? NOTICE IT!!!
Okay, much better now. So, my problems with Man of Steel.
Different hoofers, same old dance.  Hollywood loves origin stories; Hollywood loves reboots. Combine those two, and you get movies telling the same story over and over. Seriously, is there anyone in America who doesn't already know the whole rocketed-from-the-dying-planet-Krypton-raised-on-a-farm deal?  Yes, Batman Begins was a reboot and an origin story, but there also wasn't a movie in living memory that told the whole thing, and in pretty much the same outlines; 1989's Batman had roughly five minutes of origin flashbacks late in the movie, and that would have worked fine here.
Let's reboot the franchise by remaking the first two movies as one!  This seems to be a particularly current Hollywood insanity, to restart a franchise by retreading the last incarnation. (See also: Star Trek: Totally Not the Wrath of Khan Except It Is.)  I know there are people out there whose only in-depth exposure to the Superman story is from Superman: The Movie and Superman II, and they may not know there's any other way to fill in the details, but for those of us whose knowledge of the subject is a little broader, we got an eyeful of story decisions cribbed from those two movies for no reason except probably laziness, all right up front:

General Zod, who's got a bone to pick with Jor-El's son;
the "S" as a family crest;
Jor-El's semi-messianic hopes for his child, instead of just trying to rescue the little blighters;
Clark never fits in because he has to hide his powers, and Pa Kent gives his "You were sent for a reason" spiel;
Clark goes to the Arctic, where Jor-El fills him in.

Jonathan Kent is a douche.  Apparently there's a thin line between Glenn Ford's "Y'ought not show off" attitude and Kevin Costner's "Maybe you should have let a busload of schoolmates die."
The Codex and the 18,000-year-old Kryptonian ship. Or as I like to call them, the MacGuffin and the Can o' Worms.  The Codex is only there to give a reason for Zod to want to find Kal-El, which means it's only necessary if you've already decided that General Zod has got to be in this movie.  And the ship in the ice raises more questions than it answers, like, "Is there any sense at all in which Kal-El is the 'last son of Krypton,' if there are bits of defunct Kryptonian colonies all over the place?"
I am so, so tired of washed-out colors with that computer-enhanced teal/salmon scheme.  I understand not wanting the suit to be as garish as in the Christopher Reeve days (and honestly, I don't think Henry Cavill could have pulled it off), but there's got to be something between that and footage that looks like the cinematographer was colorblind.  A lot of the impact of the major destruction in Metropolis (whoops, spoiler) was dulled because everything already looked like it was coated with concrete dust.
Hey, it's a Hans Zimmer score that's as forgettable as every other second-rate Hans Zimer score!  Don't get me wrong, Zimmer's work can add mood and energy to a movie. But it's not memorable. It's not iconic.  There was so much cribbed from the last incarnation of the franchise, couldn't they at least have given a nod to the John Williams score?
Superman doesn't even exist before Zod shows up.  Pay attention, this is a big one. Clark has found/booted up a Jor-El simulation in the Arctic, he's gotten the suit and a shave… but he's still not a hero, just a super-powered angsty-man with outer-sace longjohns.  The first that the world knows of his existence is when Zod appears and demands that Kal-El stop hiding and turn himself over. In other words, Superman isn't a superhero — he isn't someone who decides to use his abilities to right wrongs because he can. Unlike Superman: The Movie, in which Chris Reeve goes on a spree of dogooderism the night he reveals himself by saving Lois, Clark only becomes a "hero" when it turns out that being left alone isn't an option.
And ain't no way he's gonna be a hero from this point out, either.  All that people know about him is that he's of the same alien race as the big bad guy who flattened Metropolis, he's been hiding among us for years, and whenever he fights someone buildings fall down. I'm guessing that, even among the non-"Kryptonians Go Home!" contingent of Americans, Superman will always be associated with an urban cataclysm that makes 9/11 look like a cherry bomb, and isn't going to be seen as an icon of truth, justice and the American way until never.
Turning Earth into Krypton. Where have I seen that before?   Oh, right — Superman Returns, which failed to impress to such a degree that attempts to continue the original movie franchise were scrapped and this reboot was greenlit.
So, so explodey.  From the beginning — which takes Marlon Brando's placid scenes and turns them into a huge testosterone-soaked battle with four-winged pterodactyls — it seems one of the driving creative impulses was "More BOOM!" It's bizarre to look back at the final reel of 1989's Batman and realize that, by today's superhero-movie standards, it was a really "small" ending.   There wasn't the kind of wholesale destruction and SFX overdrive that apparently is obligatory these days, when Act III must be entirely composed of TNT-laced adrenaline with a chaser of crack cocaine.
Body hair, dude! Yes, now I'm nitpicking, but still — is there a reason that Cavill's chest hair needed to come out past the collar of the super-jammies?
Now. There were some things I thought they got very, very right. For example, Lois Lane, played by 37-year-old Amy Adams, is believably competent as a star reporter, instead of seeming like someone who got her job either through quotas or sleeping with the boss.  (And the best workaround for Lois traditionally being stupid enough not to see through a pair of glasses is simply not to go there.)
But on the whole, I was disappointed by something that was supposed to be a for-real re-imagining of the Superman story, giving it room to grow afresh, and instead used so many lazy crutches to fill in creative gaps.